Fit-out of Restaurants, Cafes and Bars in Moscow
Restaurant fit-out is not only a creative process. It requires highly responsible specialists to ensure the execution of the work to the client's absolute satisfaction. Every day dozens of people evaluate the interior of such premises. Restaurants are a good place for business meetings and enjoying the leisure time after a hard day's work. It is also a place where dates and meetings with friends take place. Only professionals can create an interior appropriate for any situation. Skilled designers and construction workers from Int-Ext are capable of providing your restaurant with individuality and style while emphasizing its unique ambiance.
To learn more about contractual conditions, the cost of services and details of cooperation, please contact us by phone +7 (495) 135-11-35 or fill out the feedback form.
We deliver projects
on time
Working 7/24
We abide the law
Fixed price
Warranty
Custom-tailored
service
Turnkey remodeling
Int-Ext offers its clients a full range of services in remodeling restaurants, cafes, and bars of any complexity. We can start the work from scratch in a new building, remodel the premises by carrying out a major refurbishment, or simply renovate the interior and make minor changes as necessary.
While renovating any premises, we can bring into effect your ideas and offer our own design suggestions. Importantly, we always calculate the price of restaurant refurbishment while taking into account the client's budget resources.
We carry out the complete scope of restaurant, cafe, and bar repair works. As a result, a client, who selects our services, comes to enjoy a certain advantage. Our company offers turnkey remodeling, which means a comprehensive fulfillment of projects, starting with design development and ending with fit-out of the premises. There is no need not employ many different contractors, as we carry out all the works ourselves!
If you deliver turnkey remodeling of your facility to Int-Ext, you'll get:
development of design documentation or elaboration of your own design concept;
preparation of the premises for renovation, dismantling works;
approval of design documentation with state authorities, if necessary;
installation of the engineering systems;
interior and exterior fit-out works;
equipment installation;
designers' follow-on till the completion of the project;
removal of construction work.
Minor Renovation
from 3000 RUB/m2
Replacement of floorings
Local spackling and painting of walls if necessary
Repair of suspended ceilings, replacement of damaged tiles
Partial replacement of doors and sometimes windows (if required)
Replacement of sanitary ware if necessary
Shifting and adding sockets for workstations
Request for proposal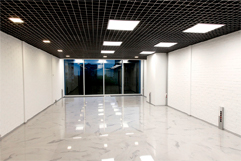 Refurbishment
from 15000 RUB/m2
Replacement of floorings
Spackling and painting all surfaces
Repair of suspended ceilings, replacement of damaged tiles
Partial of full rearrangement of the space with relevant approvals
Replacement of all doors and sometimes windows (if required)
Replacement of sanitary ware if necessary
Rebuilding or seriously upgrading the engineering systems
Request for proposal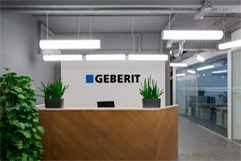 Shell&Core Fit out
from 25000 RUB/m2
Creation of working design, its coordination with the client
Horizontal distribution of engineering services
Leveling floors and walls, erecting partitions
Installation of suspended ceilings, installation of terminal devices on them
Finishing the walls (painting, wallpapering, panel installation)
Laying floor coverings
Installation of doors and sanitary ware
Commissioning of engineering systems
Request for proposal
Restaurants Refurbishment Calculator
Please note that this is a rough estimate to be defined more precisely after visiting your site and working out the detailed cost-estimate.
Our advantages in remodeling restaurants, cafes and bars
Our company understands that the selection of a contractor is not an easy task. On the construction market, one can often meet brigades and companies that can turn out to be a 'flavor of the month'. Such operations are seldom accountable should a claim arise. As a result, it is wise to cooperate with a reputable firm which will stand by its commitments. Moreover, restaurant technology and equipment is often expensive and specialized. Such products demand installation by reliable companies and professionals.
Working with our company you get:
full compliance with fire-safety and sanitary norms;
remodeling of any complexity;
prompt fulfillment of the order;
long-term warranty of the completed works and materials used;
restaurant remodeling at a price lower than a medium price across the market;
individual approach to every client;
warranty and post-warranty service.
Int-Ext is your reliable partner in creating a cozy and comfortable premise for your restaurant, cafe or bar.
Request for Proposal
A request sent to Int-Ext company will not remain unanswered. We will quickly analyze it and get in touch with you to prepare a proposal as per your request. Please fill in the form below.