Refurbishment of business centers
Refurbishment of business centers is one of the core activities of Int-Ext. Our specialists use modern construction and fit-out technologies, and high-quality equipment. We ensure full compliance of the renovated premises with current regulations and the design approved by the client. We are loyal to our clients and always seek for long-term cooperation.
To learn more about contractual conditions, the cost of services and details of cooperation, please contact us by phone +7 (495) 135-11-35 or fill out the feedback form.
We deliver projects
on time
Working 7/24
We abide the law
Fixed price
Warranty
Custom-tailored
service
Business centers need construction and refurbishment both at the stage of initial fit-out and during their operation.
Competition among this kind of facilities is very high, so it is important for owners to create attractive conditions for future tenants when opening a business-center.
Departure of some tenants and entry of others periodically require a change in layout and new refurbishment in accordance with the client wishes.
Owners of business centers regularly carry out refurbishment of common areas, such as entrance hall and reception area, elevator halls and corridors.
Often, there is a need for repair of a business-center adjacent territory and roofing. Laying pavers, repairing asphalt pavement, repairing and repainting facades, eliminating leaks on the roof and repairing storm sewage are always common parts of the operation of any such building.
Minor Renovation
from 3000 RUB/m2
Replacement of floorings
Local spackling and painting of walls if necessary
Repair of suspended ceilings, replacement of damaged tiles
Partial replacement of doors and sometimes windows (if required)
Replacement of sanitary ware if necessary
Shifting and adding sockets for workstations
Request for proposal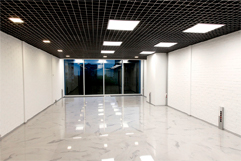 Refurbishment
from 15000 RUB/m2
Replacement of floorings
Spackling and painting all surfaces
Repair of suspended ceilings, replacement of damaged tiles
Partial of full rearrangement of the space with relevant approvals
Replacement of all doors and sometimes windows (if required)
Replacement of sanitary ware if necessary
Rebuilding or seriously upgrading the engineering systems
Request for proposal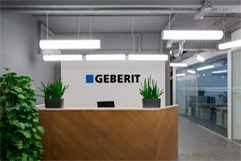 Shell&Core Fit out
from 25000 RUB/m2
Creation of working design, its coordination with the client
Horizontal distribution of engineering services
Leveling floors and walls, erecting partitions
Installation of suspended ceilings, installation of terminal devices on them
Finishing the walls (painting, wallpapering, panel installation)
Laying floor coverings
Installation of doors and sanitary ware
Commissioning of engineering systems
Request for proposal
Refurbishment of Business Centers Calculator
Please note that this is a rough estimate to be defined more precisely after visiting your site and working out the detailed cost-estimate.
Features of business centers fit out
During refurbishment of internal space of such facilities, the following are of particular importance:
Selection of materials. The business center is a place of large crowds; therefore they use non-toxic and non-combustible materials. At the same time, in view of the high costumer flow, preference is given to wear-resistant materials and paints whish are resistant to repeated wet cleaning.
Competent design and installation of engineering systems. Construction of reliable ventilation, air conditioning, heating, water supply and sewerage systems, power supply, and security systems will minimize accidents and associated costs. Quality equipment and MEP systems will serve long, provided that good maintenance is ensured.
Compliance with current standards and requirements for fire safety. It's well known that business centers are in the focus of Fire safety services, and violation of its regulations can entail significant costs. Careful observance of SNiPs and electrical installation code in the design and during fit-out ensures fire safety of the building and prevents undesirable situations.
Drawing up of work schedule. Often, refurbishment is carried out in the functioning business center. Therefore, the performance of all "noisy" work (drilling, cutting with a grinder, etc.) is restricted to weekends and non-working hours on weekdays.
Request for Proposal
A request sent to Int-Ext company will not remain unanswered. We will quickly analyze it and get in touch with you to prepare a proposal as per your request. Please fill in the form below.