Fit-out and refurbishment of car dealerships
A special category of retail space is car dealerships. Fit-out and refurbishment of these premises have some specifics and require professional approach.
To learn more about contractual conditions, the cost of services and details of cooperation, please contact us by phone +7 (495) 135-11-35 or fill out the feedback form.
We deliver projects
on time
Working 7/24
We abide the law
Fixed price
Warranty
Custom-tailored
service
Features of refurbishment
In the showroom the buyer should feel comfortable and see the presented product in the best light. The general impression of visitors from the salon depends on well-considered architectural sketch-design and quality of its implementation.
Hence, many car manufacturers have strict standards for car dealerships fit-out and carefully monitor their car dealers for compliance with these standards, up to the article numbers of the materials used.
During refurbishment special attention is paid to:
floor covering: it is necessary to use wear-resistant high-quality materials, since the floor bears heavy mechanical load. Equally important are the decorative component of the coating and the ease of wet cleaning.
layout of the room: for instance, the showroom occupies a large area. The buyer should be able to view the car from all angles. In view of this fact, there are practically no partitions in the client zone, or they are made of transparent and translucent materials.
arrangement of lighting system: generally, car dealerships have a large glazing area. This is necessary for the maximum possible natural illumination of the sales area. It is worth noting that inside the room light fixtures are mounted in a special way so that the cars exhibited look as attractive as possible.
Minor Renovation
from 3000 RUB/m2
Replacement of floorings
Local spackling and painting of walls if necessary
Repair of suspended ceilings, replacement of damaged tiles
Partial replacement of doors and sometimes windows (if required)
Replacement of sanitary ware if necessary
Shifting and adding sockets for workstations
Request for proposal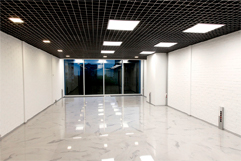 Refurbishment
from 15000 RUB/m2
Replacement of floorings
Spackling and painting all surfaces
Repair of suspended ceilings, replacement of damaged tiles
Partial of full rearrangement of the space with relevant approvals
Replacement of all doors and sometimes windows (if required)
Replacement of sanitary ware if necessary
Rebuilding or seriously upgrading the engineering systems
Request for proposal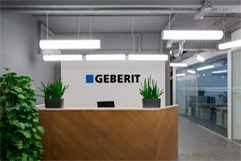 Shell&Core Fit out
from 25000 RUB/m2
Creation of working design, its coordination with the client
Horizontal distribution of engineering services
Leveling floors and walls, erecting partitions
Installation of suspended ceilings, installation of terminal devices on them
Finishing the walls (painting, wallpapering, panel installation)
Laying floor coverings
Installation of doors and sanitary ware
Commissioning of engineering systems
Request for proposal
Refurbishment of Car Dealerships Calculator
Please note that this is a rough estimate to be defined more precisely after visiting your site and working out the detailed cost-estimate.
Cost components of the work
The final cost of refurbishment includes:
designing a car dealership;
fit-out materials and equipment;
performance of construction and installation works.
The most preferable type of refurbishment for both car dealers and other large-area retail premises is turn-key refurbishment – all the necessary work done by one contractor. In this case, it is easier to monitor and coordinate the process of work.
Practicing responsible approach to each order, Int-Ext company draws up a detailed and clear estimate, selects efficient equipment and modern high-quality materials. We guarantee strict observance of terms of refurbishment and excellent quality of the work performed.
Request for Proposal
A request sent to Int-Ext company will not remain unanswered. We will quickly analyze it and get in touch with you to prepare a proposal as per your request. Please fill in the form below.