Hotel and Inn Fit-out
The hotel business makes up a considerable sector of the commercial real estate market and is always in need of high quality design. The attractiveness of a hotel depends on an aesthetically pleasing appearance as well as on the final interior detailing. The façade, the entrance area, the lobby and reception area, corridors, restrooms, and guest rooms can all make positive, as well as negative, impressions on the company's clients. The result depends on two interrelated factors: the budget available for the interior detailing and the professionalism of the company.
To learn more about contractual conditions, the cost of services and details of cooperation, please contact us by phone +7 (495) 135-11-35 or fill out the feedback form.
We deliver projects
on time
Working 7/24
We abide the law
Fixed price
Warranty
Custom-tailored
service
Budget of the hotel interior fit-out
All large hotels operators realize that financial savings on hotel remodeling will damage its reputation. Yet any client wants the budget to be reasonable and strives to get good quality for his money. The cost of hotel interior fit-out depends on its class.
In the case of a three-star hotel in the outskirts of a city, it is reasonable to use frugal budget solutions and inexpensive materials. Specialists of medium level can perform this simple refurbishment of a hotel. But in a luxury hotel, which needs appropriate chandeliers, natural stone, and expensive sanitary fitting, another level of professionalism is required. The remodeling of a hotel of such a level can be trusted only to a high skilled company, whose services will be much more expensive.
There is a strict logic in this. A construction contractor performing interior fit-out or reconstruction of a high class hotel risks damaging expensive materials. He is responsible for any accidents that might take place during installation and understands perfectly well how expensive such an accident could be. Therefore, when estimating the price, he takes into account the responsibility of the work performed, and the qualification of the specialists involved.
Minor Renovation
from 3000 RUB/m2
Replacement of floorings
Local spackling and painting of walls if necessary
Repair of suspended ceilings, replacement of damaged tiles
Partial replacement of doors and sometimes windows (if required)
Replacement of sanitary ware if necessary
Shifting and adding sockets for workstations
Request for proposal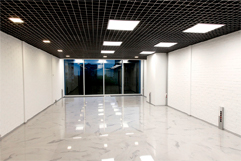 Refurbishment
from 15000 RUB/m2
Replacement of floorings
Spackling and painting all surfaces
Repair of suspended ceilings, replacement of damaged tiles
Partial of full rearrangement of the space with relevant approvals
Replacement of all doors and sometimes windows (if required)
Replacement of sanitary ware if necessary
Rebuilding or seriously upgrading the engineering systems
Request for proposal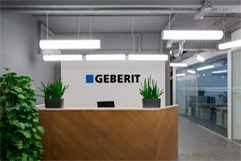 Shell&Core Fit out
from 25000 RUB/m2
Creation of working design, its coordination with the client
Horizontal distribution of engineering services
Leveling floors and walls, erecting partitions
Installation of suspended ceilings, installation of terminal devices on them
Finishing the walls (painting, wallpapering, panel installation)
Laying floor coverings
Installation of doors and sanitary ware
Commissioning of engineering systems
Request for proposal
Hotel and Inn Fit-out Calculator
Please note that this is a rough estimate to be defined more precisely after visiting your site and working out the detailed cost-estimate.
Complexity levels of hotel remodeling
"Int-Ext" performs hotel remodeling and outfitting of different complexity:
Reconstruction of hotels with partial or complete re-planning;
Interior fit-out of inns starting from scratch; i.e. from bare concrete to completed premises, ready to be presented to the client;
General maintenance of hotels, remodeling and other minor works.
We work with chain-hotel operators, as well as with independent inns. If you are in need of hotel reconstruction, interior design, or ongoing repairs and you would like to know the price and duration of such work, please call us, and we'll be happy to present you with an official estimate. If you only plan to open a hotel and want to start with the project of the interior remodeling, we are ready to develop an interesting architectural solution for you which will not leave you indifferent.
Request for Proposal
A request sent to Int-Ext company will not remain unanswered. We will quickly analyze it and get in touch with you to prepare a proposal as per your request. Please fill in the form below.