Industrial Refurbishment
Amongst various types of premises which Int-Ext refurbishes, warehouses and buildings of industrial purposes are our priority. If you need to refurbish a warehouse, shop or any other similar site, we are always ready to help you.
To learn more about contractual conditions, the cost of services and details of cooperation, please contact us by phone +7 (495) 135-11-35 or fill out the feedback form.
We deliver projects
on time
Working 7/24
We abide the law
Fixed price
Warranty
Custom-tailored
service
Specifecs of warehouses refurbishment
Store premises have their own specifics. As a rule, industrial refurbishment is extremely simple in respect to the level of the applied materials: the owner is very particular about function and not the appearance of the premise. On the other hand, maintenance of such premises is not always cheap due to their considerable quadrature and height of the ceilings. Additional complexity may arise when the warehouse does not stop working during refurbishment. Operating cat-cranes and loaders with carts do not make life easier to builders who repair the premise. Yet experience and concordant schedule of work can minimize these inconveniences.
Refurbishment of factories - the main types of works
Since premises of this type are extremely ascetic as far as the level of their finishing fit-out is concerned, their refurbishment is restricted to several types of works.
Repairing and painting of the floors. As a matter of fact, floors in industrial premises are exposed to heavy loads. Moving heavy loads eventually affects the appearance and entirety of the floors within the premise. They often demand refurbishment as well as screeding and arranging self-leveling floors, including polymeric type. If you address the cheapest company, the floor can become unfit within one year, if not less. It is much cheaper and more expedient to commission the service to professionals and forget about it when the task has been completed.
Painting of metal constructions and other surfaces. This type of work is necessary to preserve metal constructions and surfaces from corrosion. As a rule, there are many constructions of this type in industrial premises, including supporting elements of the building as well as elements of technological purposes. In metal constructions, painting of metal coating is utilized, sometimes by applying an additional layer of color above it. If you neglect these types of work, inevitable impact of corrosion will soon lead to serious damage. Int-Ext performs painting works from the ground, by scaffold, elevated platforms, and also uses the services of industrial alpinists.
Roof repairs. Many big buildings suffer problems connected with roofs. Particularly it concerns the old industrial buildings of the Soviet epoch and new stores built in compliance with economic technologies. Therefore in refurbishing industrial premises, we usually need to eliminate leakages and perform preventive actions to avoid them in future. In performing roofing services, we have to decide between temporary solutions and fundamental remodeling. The choice depends, initially, upon the budget.
"Int-Ext" experts are always ready to consult you and go out unto the site, as well as to estimate the volume of warehouses, industrial premises, or other similar site remodeling. Call us and we shall do our best to solve your problem.
Minor Renovation
from 3000 RUB/m2
Replacement of floorings
Local spackling and painting of walls if necessary
Repair of suspended ceilings, replacement of damaged tiles
Partial replacement of doors and sometimes windows (if required)
Replacement of sanitary ware if necessary
Shifting and adding sockets for workstations
Request for proposal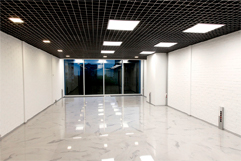 Refurbishment
from 15000 RUB/m2
Replacement of floorings
Spackling and painting all surfaces
Repair of suspended ceilings, replacement of damaged tiles
Partial of full rearrangement of the space with relevant approvals
Replacement of all doors and sometimes windows (if required)
Replacement of sanitary ware if necessary
Rebuilding or seriously upgrading the engineering systems
Request for proposal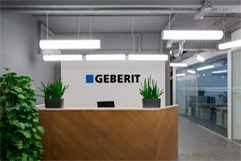 Shell&Core Fit out
from 25000 RUB/m2
Creation of working design, its coordination with the client
Horizontal distribution of engineering services
Leveling floors and walls, erecting partitions
Installation of suspended ceilings, installation of terminal devices on them
Finishing the walls (painting, wallpapering, panel installation)
Laying floor coverings
Installation of doors and sanitary ware
Commissioning of engineering systems
Request for proposal
Industrial Refurbishment Calculator
Please note that this is a rough estimate to be defined more precisely after visiting your site and working out the detailed cost-estimate.
Request for Proposal
A request sent to Int-Ext company will not remain unanswered. We will quickly analyze it and get in touch with you to prepare a proposal as per your request. Please fill in the form below.