Bank Fit-out
Banks occupy a special place among the different types of offices that need refurbishment and interior design. In bank refurbishment, there are high expectations in terms of the duration and quality of the work. Only a highly professional construction company should be entrusted with bank refurbishment.
To learn more about contractual conditions, the cost of services and details of cooperation, please contact us by phone +7 (495) 135-11-35 or fill out the feedback form.
We deliver projects
on time
Working 7/24
We abide the law
Fixed price
Warranty
Custom-tailored
service
Safety service requirements
As a rule, there is a standard of interior design for each new bank branch. In banks, high requirements for safety systems – access control, video monitoring, intruder alarms, etc – should be met. The final detailing of reception areas should be performed at the highest level of quality, while the requirements to the back office can be somewhat lower. The installation of a cash operating unit and a tube transfer system is often necessary in bank remodeling.
A bank safety service usually makes several demands to the contractor in order to avoid incompetent contractors and fly-by-night companies. The contractor's registration documents are thoroughly analyzed, as well as his financial accountability, licenses, insurance policy, authorized capital, permanent assets, positive references from other clients, etc. Therefore only large and reliable contractors, which can be held fully responsible for their commitments, are involved in bank fit-out.
Bank remodeling
from 3000 RUB/m2
Replacement of floorings
Local spackling and painting of walls if necessary
Repair of suspended ceilings, replacement of damaged tiles
Partial replacement of doors and sometimes windows (if required)
Replacement of sanitary ware if necessary
Shifting and adding sockets for workstations
Request for proposal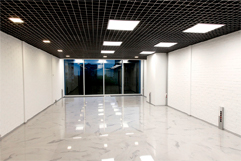 Bank renovation
from 15000 RUB/m2
Replacement of floorings
Spackling and painting all surfaces
Repair of suspended ceilings, replacement of damaged tiles
Partial of full rearrangement of the space with relevant approvals
Replacement of all doors and sometimes windows (if required)
Replacement of sanitary ware if necessary
Rebuilding or seriously upgrading the engineering systems
Request for proposal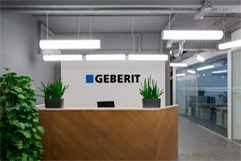 Shell&Core Fit out
from 25000 RUB/m2
Creation of working design, its coordination with the client
Horizontal distribution of engineering services
Leveling floors and walls, erecting partitions
Installation of suspended ceilings, installation of terminal devices on them
Finishing the walls (painting, wallpapering, panel installation)
Laying floor coverings
Installation of doors and sanitary ware
Commissioning of engineering systems
Request for proposal
Bank refurbishment calculator
Please note that this is a rough estimate to be defined more precisely after visiting your site and working out the detailed cost-estimate.
Our advantages
"Int-Ext" completely meets the above-mentioned criteria. Our competitive advantages are quite obvious:
Reasonable pricing of bank interior fit-out;
Readiness to any necessary check-outs;
Availability of licenses and significant material and technical basis;
Complex implementation of turnkey remodeling;
Flexibility and eagerness for long-term cooperation.
"Int-Ext" is always ready to prepare a professional estimate of bank remodelling for you, including interior design and fit-out, electrical works, plumbing systems, installation of ventilation and air-conditioning, and entrance area remodelling. We welcome any new client and are ready to present a lot of references, and arrange face-to-face meetings with our former clients. Our task is to make dealing with us convenient and fruitful for our clients. We hope that you'll be among them!
Request for Proposal
A request sent to Int-Ext company will not remain unanswered. We will quickly analyze it and get in touch with you to prepare a proposal as per your request. Please fill in the form below.