Refurbishment of gyms and fitness centers
Premises for sports is a special place, which requires meticulous preparation. To ensure high quality refurbishment of sports facility, a number of characteristic details and aspects should be taken into account.
To learn more about contractual conditions, the cost of services and details of cooperation, please contact us by phone +7 (495) 135-11-35 or fill out the feedback form.
We deliver projects
on time
Working 7/24
We abide the law
Fixed price
Warranty
Custom-tailored
service
Features of refurbishment of sports facilities
The height. Typically, gyms and fitness clubs have high ceilings. All types of repair work on the ceilings and installation of engineering systems on them need a tower-tour, which makes the process rather complicated.
Functional zoning of space. It is important to carefully consider the arrangement of sports equipment and stock. The ancillary facilities, such as bathrooms, showers, locker rooms, are to be correctly arranged. If it is included in the business plan, you can allocate rooms for a fitness bar, a massage room, a solarium.
Ventilation and climate control. According to the current building standards sports halls should have powerful ventilation and air conditioning systems to ensure comfortable conditions for doing sports.
Soundproofing. Many of the exercise equipment are power training apparatus with considerable weight. They make a noise while operating. Because of the above mentioned fact, refurbishment of such halls sometimes requires additional sound insulation, especially if there are other tenants and owners in the premises below.
Minor Renovation
from 3000 RUB/m2
Replacement of floorings
Local spackling and painting of walls if necessary
Repair of suspended ceilings, replacement of damaged tiles
Partial replacement of doors and sometimes windows (if required)
Replacement of sanitary ware if necessary
Shifting and adding sockets for workstations
Request for proposal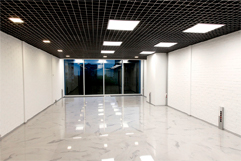 Refurbishment
from 15000 RUB/m2
Replacement of floorings
Spackling and painting all surfaces
Repair of suspended ceilings, replacement of damaged tiles
Partial of full rearrangement of the space with relevant approvals
Replacement of all doors and sometimes windows (if required)
Replacement of sanitary ware if necessary
Rebuilding or seriously upgrading the engineering systems
Request for proposal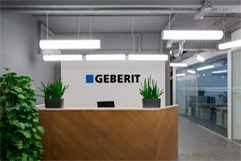 Shell&Core Fit out
from 25000 RUB/m2
Creation of working design, its coordination with the client
Horizontal distribution of engineering services
Leveling floors and walls, erecting partitions
Installation of suspended ceilings, installation of terminal devices on them
Finishing the walls (painting, wallpapering, panel installation)
Laying floor coverings
Installation of doors and sanitary ware
Commissioning of engineering systems
Request for proposal
Gyms and Fitness Centers Refurbishment Calculator
Please note that this is a rough estimate to be defined more precisely after visiting your site and working out the detailed cost-estimate.
Selection of fit-out materials
Sports activities are associated with various types of loads on the floor. Therefore, for laying the floor it is necessary to select good wear-resistant materials with big safety margin. Often, modular floor coverings from rubber and PVC are used. Generally, in the areas of training apparatus and dance halls there are used floor board and laminate.
Special attention requires fit-out of walls with mirrored panels. They give the halls a presentable appearance and visually expand the space. Moreover, they enable professional athletes and amateurs to control the correctness of the exercises being done.
Int-Ext specialists will carry out refurbishment of gyms and fitness clubs on your order, and will develop a complete package of design documentation, which includes engineering systems and architectural designs. A professional approach to solving problems, years of experience and high qualification of specialists, as well as accurate observance of deadlines, using of modern materials and equipment enable us to guarantee high quality refurbishment.
Request for Proposal
A request sent to Int-Ext company will not remain unanswered. We will quickly analyze it and get in touch with you to prepare a proposal as per your request. Please fill in the form below.