Shop and Retail Fit-out
Int-Ext designers understand the importance of creating a unique interior and prestigious ambiance to be distinguished from other trade spaces. In developing a project, we take into account the necessity to create comfortable conditions for customers – that's our priority.
To learn more about contractual conditions, the cost of services and details of cooperation, please contact us by phone +7 (495) 135-11-35 or fill out the feedback form.
We deliver projects
on time
Working 7/24
We abide the law
Fixed price
Warranty
Custom-tailored
service
At present, retail refurbishment is the service which is in greatest demand in Moscow. New trading centers appear, the old ones are reconstructed, and as a result, competition in the trade business grows. Psychologists have proven that a renovated interior attracts more customers to the shops. Thus retail refurbishment and especially shop fit out should be performed at the highest level of quality and with the application of secure materials.
Retail refurbishment of different specialisation
Developing the shop design, our designers pay attention to its location in relation to the center of the city, the supposed number of customers and their social structure. Performing retail refurbishment and fit-out, Int-Ext solves the following tasks:
development and fulfillment of unique design for the opening boutique;
renovation or remodeling of a shop that has been working for several years;
refurbishment and fit-out of specialized and narrow-profile, universal and combined commercial facilities;
remodeling of stores standing apart and situated in built-in or extended premises;
refurbishment of shops (in Moscow) with trade space of any size – from a small boutique to a large trading center;
remodeling and fit-out of shops occupying several floors;
refurbishment of trade premises occupying the basement.
Minor Renovation
from 3000 RUB/m2
Replacement of floorings
Local spackling and painting of walls if necessary
Repair of suspended ceilings, replacement of damaged tiles
Partial replacement of doors and sometimes windows (if required)
Replacement of sanitary ware if necessary
Shifting and adding sockets for workstations
Request for proposal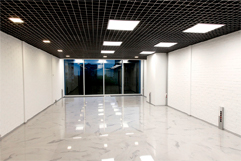 Refurbishment
from 15000 RUB/m2
Replacement of floorings
Spackling and painting all surfaces
Repair of suspended ceilings, replacement of damaged tiles
Partial of full rearrangement of the space with relevant approvals
Replacement of all doors and sometimes windows (if required)
Replacement of sanitary ware if necessary
Rebuilding or seriously upgrading the engineering systems
Request for proposal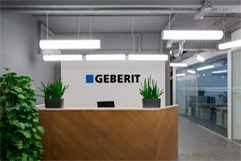 Shell&Core Fit out
from 25000 RUB/m2
Creation of working design, its coordination with the client
Horizontal distribution of engineering services
Leveling floors and walls, erecting partitions
Installation of suspended ceilings, installation of terminal devices on them
Finishing the walls (painting, wallpapering, panel installation)
Laying floor coverings
Installation of doors and sanitary ware
Commissioning of engineering systems
Request for proposal
Shop and Retail Fit-out Сalculator
Please note that this is a rough estimate to be defined more precisely after visiting your site and working out the detailed cost-estimate.
Types of retail refurbishment and fit-out
We perform remodeling and renovation of shops in Moscow.
Shop remodeling – this kind of fit-out includes removal or restoration of different surfaces. Our experts install suspended ceilings, replace floor coverings and wall panels, plaster and paint walls and ceilings. In such cases we may also perform insignificant re-planning applying plasterboard, glass and plastic partitions.
Renovation of shops always implies partial or complete re-planning of trade areas, which requires an interior design. While performing renovation, we dismount and/or replace walls, door and window openings; our engineers design and partially replace engineering services.
Reliable retail fit-out by Int-Ext
If in retail refurbishment, a significant modification in the engineering systems is required, our experts make skilled, secure projects of engineering systems, which are necessary for expensive equipment installation and functioning. We are masters of ventilation and air-conditioning that will create comfortable ambiance for customers and employees of the trading company. We perform wiring and low-voltage works: video monitoring, fire safety system and intruder alarm, as well as telephone and Internet installation. Conducting remodeling of shops, our employees also repair heating, ventilation, air conditioning (HVAC) and sewage.
You can trust retail refurbishment of any complexity to Int-Ext, where responsible and skilled experts work. We provide warranty for implemented works to every client. All the stages of repair and fit-out are performed in compliance with sanitary and fire-safety norms.
Request for Proposal
A request sent to Int-Ext company will not remain unanswered. We will quickly analyze it and get in touch with you to prepare a proposal as per your request. Please fill in the form below.