Installation of plasterboard partitions
The best solution for separation of premises at a relatively low cost and within the shortest time possible is installation of plasterboard partitions.
To learn more about contractual conditions, the cost of services and details of cooperation, please contact us by phone +7 (495) 135-11-35 or fill out the feedback form.
We deliver projects
on time
Working 7/24
We abide the law
Fixed price
Warranty
Custom-tailored
service
The technology of installation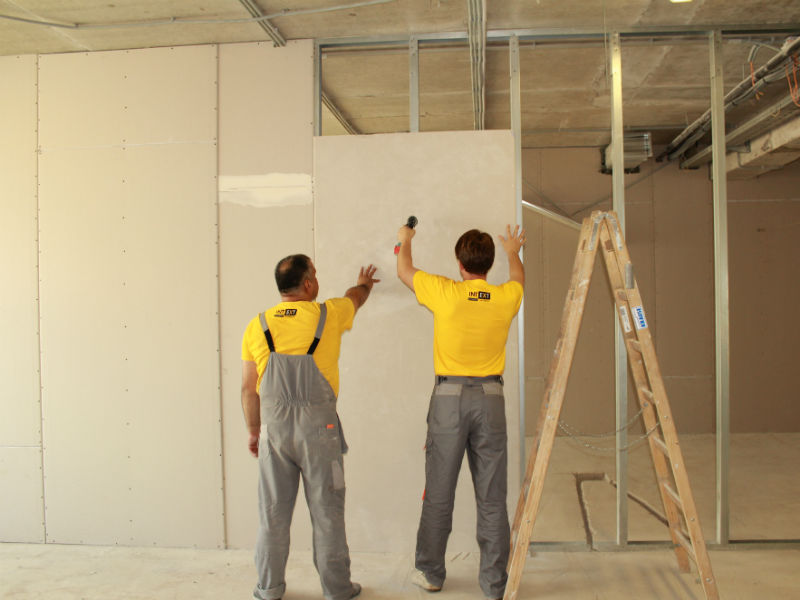 Any partition of this type consists of a metal frame faced with plasterboard sheets on both sides, usually with a sound and heat insulation layer inside.
The process of installation comprises:
layout of the premises;
installation of the guiding base along the laying lines affixed to the base by screws;
installing the frame and leaving necessary openings using studs;
installation of plasterboard sheets on one side;
soundproofing and pulling cables inside the frame;
facing of the frame on the other side.
It should be noted that facing the partitions on both sides can be performed in one and two layers. Two layers slightly increase the cost of the construction, yet considerably enhance its durability and reliability.
the advantages of plasterboard partitions' installation
Alongside the simplicity of performance and relatively low cost, the installation of plasterboard partitions has certain advantages:
light weight, which is important both in the installation process and in further maintenance;
simplicity of installation;
absolute ecological safety;
a huge variety of design solutions (the construction can take any shape);
creation of optimal conditions for pulling cables;
a wide choice of materials for specific conditions of partitions' maintenance (for example, in premises with water supply a special waterproof plasterboard is used, and at sites with high risk of fire- a fire resistant one);
Simplicity of dismantling the construction when necessary.
Our services and advantages
Int-Ext Company performs installation of plasterboard partitions of any complexity and configuration. We offer the whole range of services in this field- from developing design solution and calculation of materials to installation and finishing of the premises.
If you employ Int-Ext Company, you'll save effort, time, and money for several reasons:
We have vast practical experience in installing partitions as well as necessary competence;
we work promptly, in a coordinated team, without damage to the premises;
we use plasterboard manufactured only by leading producers;
we are able to find an optimal solution for any site;
we provide a wide range of related services in repair and fit-out.
High quality installation of plasterboard partitions by Int-Ext Company implemented on time and for reasonable price will allow you to optimize the site in accordance with all your requirements.
Request for Proposal
A request sent to Int-Ext company will not remain unanswered. We will quickly analyze it and get in touch with you to prepare a proposal as per your request. Please fill in the form below.