Plastering
This involves a wide range of tasks for leveling the surface and preparing it for further finishing (puttying, papering the walls, painting, etc.) You can plaster brick, concrete, block, stone and other surfaces. There are many methods of plastering the walls and ceilings. They are selected according to thickness of the applied coat, the slope angle of the treated surface, etc. In this kind of work manual plastering, as well as automatic plastering, can be used; the latter demands special equipment. In plastering work we use different mixtures dissolved manually as well as ready-made solutions. The technology used depends on the type and condition of the material to be treated and the coating area.
To learn more about contractual conditions, the cost of services and details of cooperation, please contact us by phone +7 (495) 135-11-35 or fill out the feedback form.
We deliver projects
on time
Working 7/24
We abide the law
Fixed price
Warranty
Custom-tailored
service
Wide scope of Plastering work
Our experts perform painting and plasterboard work using standard, decorative and special plaster. Standard plaster is intended for leveling the walls and ceilings in different kinds of premises and also for facade finishing. For plastering work in which decorative materials are used, we can execute a wide range of interior design solutions. Special plaster serves to improve the visual appeal of buildings and premises (for instance increased waterproofing).
Wet and Dry Technologies
Int-Ext experts are skilled in all the existing leveling methods, which can be divided into two groups. In wet plastering work, plastic mixtures and solutions are used. In dry work thin lagging sheets for wall and ceiling facing are applied (gypsum plasterboard installation).
Our specialists do plastering work of any extent manually or with the help of special equipment.
Complex painting and plastering works
Available services include plasterboard, priming coating, and further painting work of walls or any other surfaces. We can also offer you decoration of the premises with artistic and decorative elements specially made for your particular order, for instance with gypsum plastic.
Our advantages
It is profitable and convenient to work with Int-Ext. Placing an order for finishing work, you will receive:
Constant high quality of painting and plastering work of any complexity
Prompt fulfillment of large-area orders
Affordable prices that don't change during the term of work
No restrictions in the choice of materials and technologies.
Int-Ext guarantees that painting and plastering work will be performed in a timely fashion and at the highest level of quality.
Int-Ext Company Services
Unit
Price in Rubles Including VAT
Plastering of walls (labor only)
m2
about 900
Plastering of ceilings (labor only)
m2
about 1050
Examples of our work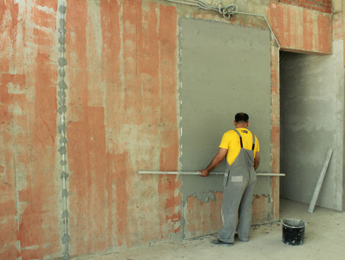 Request for Proposal
A request sent to Int-Ext company will not remain unanswered. We will quickly analyze it and get in touch with you to prepare a proposal as per your request. Please fill in the form below.